Voice Technologies is a Swiss brand of lavaliers and earphones, present on the market for more than 20 years. Benefiting from impeccable design and sound quality, and an excellent ambassador of Swiss made so famous outside our region, I use their products, especially the VT500, during many of my shoots. I wanted to learn more about this brand and asked Michel Hausammann, the CEO of the brand, if he would answer some of my questions for my blog.
Hello Michel, thank you for answering my questions.
Voice Technologies is a Swiss lavalier and earpiece brand, existing for more than 20 years. Can you tell us about the genesis of its creation?
We've been in close contact with some microphone capsule manufacturer. In 1997 we've been asked to produce a microphone. We looked into this and came out with the VT500 and VT506.

What kind of projects do you cover the most with lapel microphones? (documentary, cinema, TV, etc.)
It all started with Broadcast, ENG in particular, but now it's from the theater stage to mechanical industry, where our mics are used for live monitoring and the recording of the production process.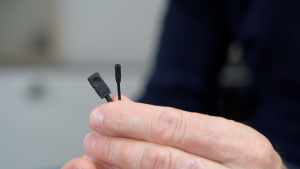 We can notice that you have developed lavaliers with a capsule on the side as well as others with a capsule on the top. Why did you choose these two different ways of capturing sound?
This has a lot to do with size. To keep the bigger capsules as small as possible the opening will be at the side and for the small capsule it's on the top. The mounting is very important, so f.e. if you have a capsule with a small opening (capsule at the top) and you clip it at a tie, we have a 30° angle in our clip, so the mics points slightly forward and not straight up to the chin.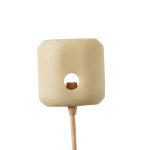 Depending on the projects (especially in fiction), it is often necessary to have to hide the lavaliers under the clothes. Is this something you take into consideration when developing a new mic? 
We make certain that our mics are good enough to have great sound even under cloth. On top of this we supply the Rubber Body Mount with the mics, to help mounting mics under clothes, but many professional soundmen have developed their own techniques to hid mics.
You have developed a lavalier which is totally amphibious. Can you tell us what application it is for?
It all started when we had to develop a waterproof mic for the Americas Cup World Series. These mics have been use for more situations then we ever thought of. Of course the "normal" video recording when water comes into play, but also on stage. They're not only for water, also protect from sweat. Some customers had to shoot extreme reality TV series, so we needed to find a solution, where a mic could stay under water for a long time. So we came up with the VT500X (eXtreme).
You have also developed earpieces. What kind of projects do you cover with these?
Our goal with our earpieces is to have the highest clearness of speech. You won't have to much fun listening to music with them. They are made for presenter, so with a low gain, they can hear very clear.

Is « Swiss made » an asset when approaching customers?
 Yes I think it is a real asset. It gives customers some confidence, as they know they are working with a stable country
When developing a product in Switzerland (a country known to have a rather high cost of living), is it difficult to keep prices competitive from an international point of view?
Yes this is quite a challenge, but we are focusing on project, where no one else wants or can find a solution. So at the end the price is where it is. Because of this, we've had the situion, that at the end the price was too high and the project had to be stopped.
What are the biggest challenges when developing products like yours?
Many times the most difficult thing is at the customer. To really find out what they want, and often this changes. The change can be extrem.
Thank you Michel for answering my questions. And long life to Voice Technologies!
Website : https://www.vt-switzerland.com/en/